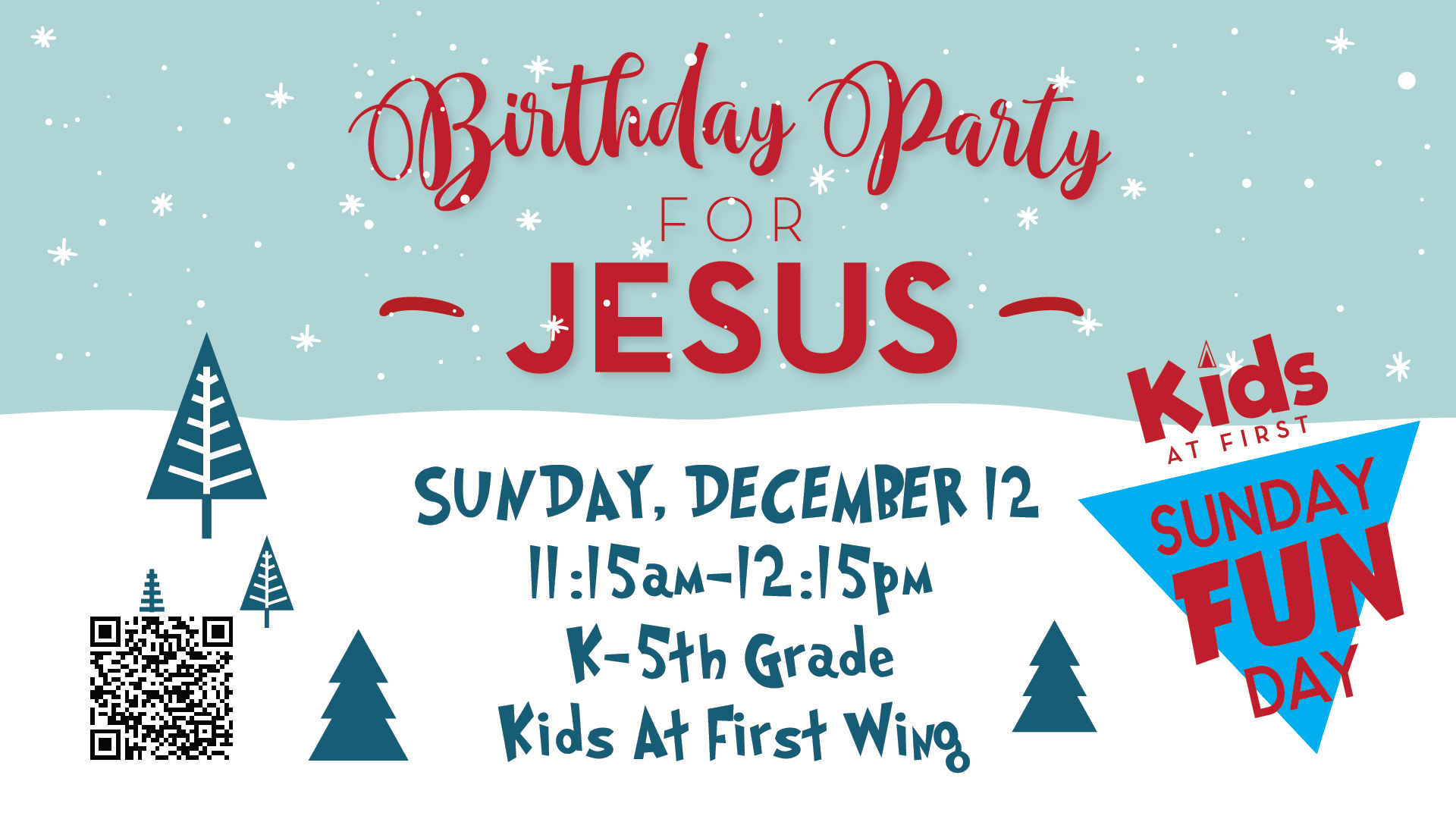 FX is all about worshiping together with your family. Using games, skits, Bible Stories, and a Family Devotional kids and parents are introduced with a discipleship focus for the month. We meet once a month on Sundays in The Clubhouse, Room 110, 5:15-6pm.
Mark Your Calendar with all the upcoming FX dates:
December 5
January 9
February 6
March 6
April 3
Kids At First seeks to echo the truth of the Gospel parents teach at home. Our audacious goal is to partner with parents in a way that enables kids to become mature Christ followers who make an impact in God's kingdom.
Deuteronomy 6 clearly outlines how the family of faith works with families to help kids to know, love and serve Jesus. The Kids At First Ministry seeks to give parents simple tools to help their child develop spiritually. Parenting classes, Faith At Home printed and digital resources, monthly FX (Family Experiences) equip parents to spiritually lead their child.
Sunday morning Bible Study is the most important hour of our ministry. In the context of relationship with our amazing leadership team, kids build a foundation of faith using Bible-based, age appropriate curriculum. Additionally our ministry offers three weekly discipleship programs--WIRED252, EPIC, and Bible Drill. Vacation Bible School, Mini Camp and Kids At First Camp are offered each summer. Finally, we help kids and families mark and celebrate spiritual milestones like Getting Ready for Big Church, First Grade Bible Presentation, New Christians Classes, Kids At First Worship, and 5th Grade Retreat.
Our Children's Minister, Julie Hammer, is available to counsel kids who are considering trusting Christ. In addition, Julie counsels with kids who have lost a loved one or who are struggling emotionally. Our ministry provides referrals for on-going counseling for kids and families.
Using games, crafts, and other creative methods, kids connect the with the truth of God's Word in a life changing way.
A combination of the best of children's choir, high-energy worship, and discipleship that sticks for kids and families.
Bible Stories, small group activities, and sports recreation on Wednesday nights for kids Kindergarten through Fifth Grade.
Kids discipleship for Fourth and Fifth Graders that includes Scripture memory, how to use the Bible, and memorizing the Books of the Bible.
kids learn about, lead in, and engage in corporate worship services as well as how to take sermon notes.
Using games, skits, Bible Stories, and a Family Devotional kids and parents are introduced to the discipleship focus for the month.
A weeklong time of discipleship 9-12Noon each day for Kindergarten through Fifth Grade that encourages kids to go deeper in following Jesus.
Mini Camp / Kids At First Camp
A weeklong stay away camp for kids in Third through Fifth Grade that creates space to meet God in Bible Study and worship. Kids will enjoy swimming, fishing, crafts, canoeing, archery and riflery as well as special evening activities.
First Family Fun Fest is a FREE event for Lewisville and the surrounding area that includes carnival games, Trunk-or-Treat, a car show, bounce houses, Touch-A-Truck, a concession stand, a photo booth, and LOTS and LOTS of candy!
Easter Helicopter Egg Drop / Egg Scramble
Immediately following Easter Sunday Worship and Bible Study hours, kids age three through Fifth Grade are able to collect eggs dropped from a helicopter. An Egg Scramble (Egg Hunt) is available for preschoolers under age 2.
Getting Ready For Big Church
An event for incoming Kindergarteners and their families to transition into worship as a family.
First Grade Bible Presentation
a celebration of God's Word and kid's emerging reading skills, first graders are presented a copy of the Bible from our church.
A retreat for fifth graders to talk about the many facets of growing up, putting kids on a trajectory to thrive in the teen years. Topics include: Dealing with Feelings of Inferiority, Combating Conformity, Puberty, Physical Changes, and Sex (Separate boy and girl sessions), Communication with Parents, My Identity and Purpose in Christ
New Christians Class / Next Step Parenting Class
A four week class that meets during the Bible Study hour for kids who have recently trusted Christ. Next Steps Parenting Class meets one week and helps parents of kids who have recently trusted Christ to take spiritual next steps.
Important people in the ministry
Carlee Belcher
Children's Ministry Assistant
Rachel Thomas
Children's Ministry Coordinator
Email us at: info@fbclewisville.org or Call: 972.436.5502
Have questions? Want more information? Reach out to FBC Lewisville and one of our team will get back with you shortly. We are here to answer any questions you may have about Christ, Salvation, the Bible, this Church, Events, or other things we can help with.