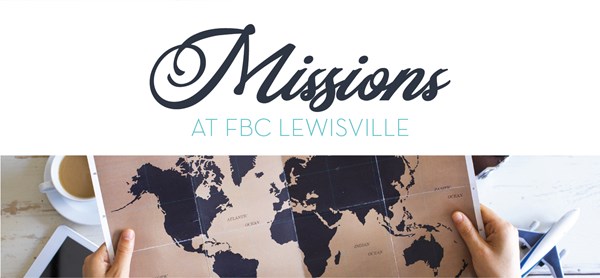 Mission Efforts
We commit to Jesus. We commit to his followers. We commit to his world.
Through local and worldwide missions activities and support, our church strives to commit to our world. We encourage believers to be witnesses of Jesus "to the ends of the earth" (Acts 1:8). Opportunities to serve and support missions are ongoing.
If you are interested in participating or supporting any missions activity through financial or prayer support, please contact Leesa Green, Ministry Assistant/Missions. We encourage you to commit to God's world through Missions.
Mission Trip participants is closed
Supporting Missionary Eric Stone
2020 Pueblo Modelo, Guatemala
July 18-25th
(dates could be adjusted one or two days based on airfare availability)
Maximum of 17 people high-school age and above
Cost $1500 prior to April 15th - April 16th $1500 plus your airfare
2020 Lyon, France Trip
Supporting Missionary Steve Marshall
(plus one or two days for travel)
6 Adults needed; maximum 10
Cost $2500
Information packets on the Missions Ministry table or at the South Info Center.
*If you are interested in going on the Pueblo Modela  or Lyon trip, please contact Leesa.*
To be accepted onto the Mission Trip Team Member you must have:
Current Passport
Approved Background Check (within the last 3 years)
Mission Team Member Application
Signed Mission Team Covenant
Turned in Deposit $500 by the deadline March 1, and $500 April 1, and April 15 or remaining balance. April 16 remaining balance plus airfare and you must be on the same flight as the team to go and be on the bus to Pueblo Modela
Christian Community Action Program
We will be collecting through out the year various things.  email Leesa.
Have questions? Want more information? Reach out to FBC Lewisville and one of our team will get back with you shortly. We are here to answer any questions you may have about Christ, Salvation, the Bible, this Church, Events, or other things we can help with.